What to do on a weekday in Houston with a visiting nephew?
Ryan came down to Houston for a visit February 2013.  We had no plan and less money, so we did the most popular activity in Houston, drive somewhere…
We drove to the Galleria and walked through mall.
Then we stopped by Williams Tower, walked around a little, and took some pictures.
The weather was perfect.
Fun, but not so much.
Ryan Sylvester
We took some more pictures at the water wall.
Then drove into the Heights to shop some resales on 19th St.
Ryan bought a hipster shirt but he didn't like the Talking Heads jacket.
We had our fill of polyester stench, and headed into the Montrose to check out a gallery.
The Menil Collection is a must see.
The world class art collection is so vast that it would take years to get a sense of it.
After ninety minutes, we had enough.
Feeding an organic Canadian teenager with vegetarian tendencies, is an ongoing adventure.
This time, we found a place he liked in the Montrose with lots of free-range vegetarian dishes, and some killer pork chops for me.
We wandered around downtown looking at buildings.
We checked out the Rice Lofts, and Christ Church Cathedral, then walked down to Market Square, circled around to Jones Hall; and back to Rice.
The Rice Hotel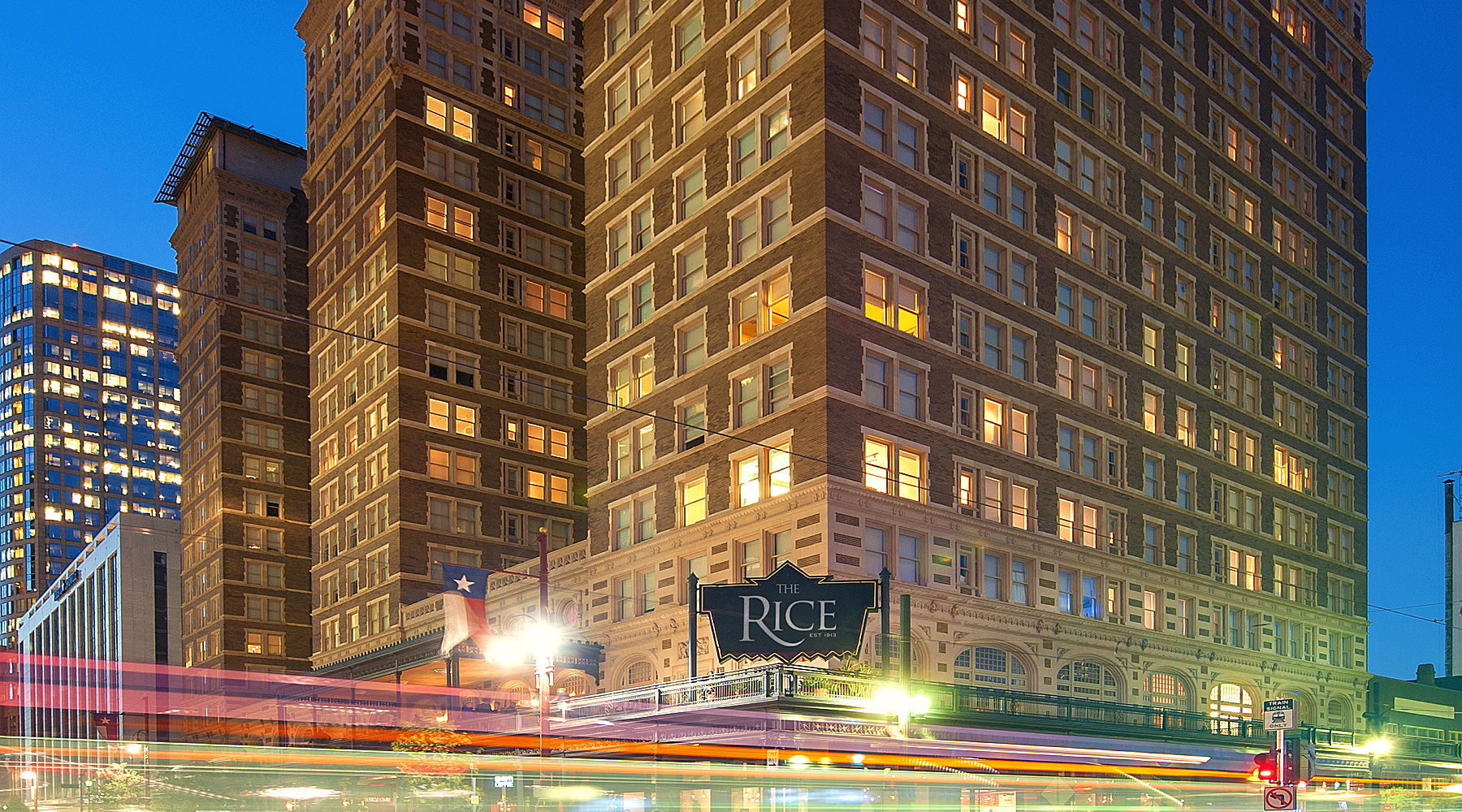 Market Square
The park at Market Square provides shady refuge amidst the busy Harris County Court complex and Theater District.  The renovated Market Square incorporates art installations from the previous park designed by Paul Hester, Douglas Hollis, and Richard Turner.  The footpath is paved with bricks and remnants of demolished buildings.  Tiled benches with artwork from Malou Flato are positioned at prime viewing spots around the park. Lauren's Garden is a quiet memorial.  The "Points of View" sculpture by James Surls appears to reach up to the surrounding buildings from anywhere in the park.  There is also an enclosed dog park with fountain, and a Niko Niko's with large seating area.